---
Finger lights you can pluck magically from the air. These are the special Ultra Bright Pair.
EFFECT: Imagine being able to show your hands empty and pluck lights out of the air or out of a child's ear!
You can pass the light through your head up your nose and then vanish without a trace! Very easy when you know the secret.
Rave Finger lights As Seen on TV and in LAS VEGAS.
D'lites are easy to operate. A D'lite runs on a small battery that should last a long time with normal usage.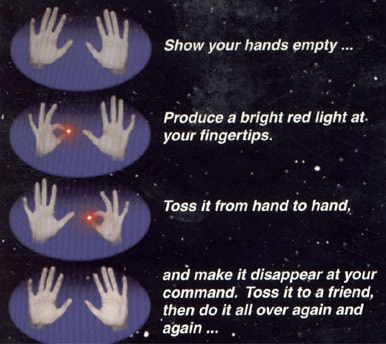 The pair of Dlites comes with 2 so you pass the light from hand to hand and do the effects like in the video clip.
–Great for dancing parties–
*Batteries included
These are the high quality version by Rocco.