Head Chopper French Guillotine version- Frontier
Out of stock
 French Guillotine – Frontier
This solid, realistic looking Guillotine stands almost 6ft high, as U.F. Grant designed it.
This sinister instrument is made from solid timbers, reinforced with steel, and built like a fortress. It must be seen to be feared.
A victim is captured and imprisoned by the neck in the pillory stocks. The blade thunders downward. WHAMMMMM! As suggested and used by the famous stage magician, Jack Gwynne.
The effect with this new model is really startling! You can feature it in your any show! It plays well as a comedy presentation or as a dramatic sensational climax!
Use for wonderful publicity Photo possibilities.
This new model Guillotine is very sturdily built and looks its part. Better still, it folds down small for easy carrying.
The size when folded (legs removed) is 34.5 X 7X 23.5 and can be set up in 2 minutes with only 4 bolts.
Made in the USA with quality construction!
A big Illusion at a little price!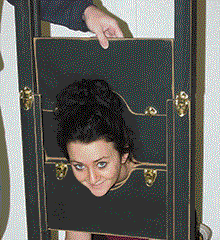 This item is larger so it is shipped separately
We only ship this item to the USA and is shipped via UPS.
---